Too busy to handle employee administrative burdens? Let the spirit of Aloha work for you!
We're aware that sales play a very important role in the growth and success of any business; however, the countless tasks of administration and HR paperwork are something that shouldn't be ignored!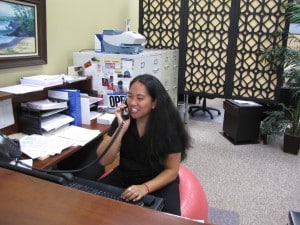 We're proud to say that our services can easily manage all of the Human Resources and Employee Administrative headaches that you can imagine. As a business owner, all you have to do is concentrate on what you do best, run your business!
We negotiate our rates (TDI, health insurance, workman's compensation) so they are affordable to offer the most budget-friendly costs to our clients, ensuring that they are cost effective, but of high-quality.
Rest assured that not only will you save precious time and money, the reputation of your business will remain strong, like how it's supposed to be.
Benefits you can enjoy from choosing our Employment Agency:
Targeted Recruiting and Selection
It doesn't matter if you're in search of employees who will cover peak workloads, staff vacations, or special projects. Our comprehensive screening and sourcing practices allow us to only provide the top talent in your specific area.
Aside from that, we also utilize a proprietary selection process, as well as a reliable methodology in order to generate the profiles of top office performers, allowing us to pick the perfect candidates for our valued customers.
Unparalleled Insight and Performance
We focus on providing temporary employment in Hawaii that specializes in a variety of jobs. Our network of local offices ensures that we maintain a remarkable insight in your market, as well as a pool of relevant skill sets.
Cost Effective Strategies
You can save thousands of dollars every year as you eliminate the recruitment fees from the annual budget; including advertisements, resumes, and interviews.
Thorough Screening Process 
We have developed a thorough screening process to pre-screen applicants based on the criteria you're looking to find in an applicant before you ever see their resumes. Background checks, Substance and Alcohol Abuse screening are all available. Check out our employer services to learn more!
Our years of experience allow us to recruit and retain qualified staff; we have the capacity of filling a large volume of requests in a short amount of time. Whether you are looking for temporary workers or full-time staff, you can depend on us to find you the help you need.
Lastly, Aloha International Employment, Inc. is a fully licensed employment agency. We have been a leader in this industry for more than three decades, satisfying the employment needs of Hawaii's businesses and providing our clients the professionalism with the spirit of Aloha that they're looking for!
To learn more about how our team can help you, contact our Maui or Oahu office today!